Name: hannah leigh
DOB: march 22, 1990
Location: holmdel, new jersey
School (private, public, boarding, college?) 10th grade holmdel high school public school
Music: sarah mclachlan, the juiana theory, the beatles, john mayer, dashboard confessional, a second chance, straylight run, kelly clarkson, mariah carey, queen, and more
Movies: breakfast at tiffany's, pulp fiction, thirteen, eternal sunshine for the spotless mind, the notebook
Why are you a "prep"?: i was raised with good morals and have been fortunate enough to have a good education. yes, my family belongs to the club, and have a summer house and ski house, but that doesn't have a lot to do with it. i'm a good student, and participate in a lot of school functions and volunteering clubs such as Helping Cancer Patients and Key Club. also, i'm outgoing and i love being the life of a party, but i know what my limits are, and present myself very classy in front of my peers and family.
What makes you "not preppy": i love juicy couture and uggs, no matter how overrated they have become. also, i do like some trendy styles, but i usually just stick to my usual outfits which consist of lilly dresses/skirts, cardigans, lilly/rl polos, seven jeans, birks, etc.
What prep stereotype do you not agree with: i hate it when people don't really know what preppy means calls someone preppy when they're head to toe in abercrombie and (even though i'm a cheerleader) think that if you're a cheerleader, you're preppy.
Do you wear a ribbon in your hair?: i used to more. sometimes i still do.
Do you own the official preppy handbook?: yes, my grandma gave it to me.
What is your favorite color combination?: i really like bright lilly colors with black. like yesterday i wore a black cableknit sweater with an aqua blue colored lilly polo underneath, and i thought it looked really pretty :)
Why should you join this community? i'm easy to get along with, and will participate and update a lot. i like hearing other people's opinions on pretty much anything, and i like sharing my own too.
Please add 3+ pictures of yourself.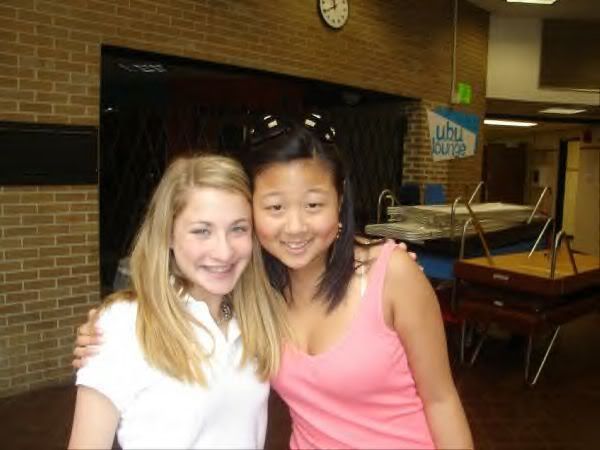 on the left in white (last year)
more recent
on the right (my bday last year)
last day of school (last year)